Truck driver, Truck-trailer
Connors Transfer has been moving freight throughout North America for over 35 years. Founded by brothers Glenn and Lauchie Connors, they have built a solid reputation as a trucking company that can be counted on to deliver our customers freight on schedule. Their tandem and tridem trailers are a combination of dry vans and temperature controlled 53-foot trailers ensuring our ability to meet any customer's needs. They operate a large fleet of late model, well-maintained tractor trailers. Their single and dual temperature controlled trailers are capable of providing a temperature range from -20°F to 80°F (-29°C to 27°C).
Connors Transfer Limited based in Thorburn, NS, is looking for truck drivers and truck-trailers with 5 vacancies. The once chosen to be employed will be required to start work as soon as possible. The shifts may vary from day to evening to night, it may continue in the weekend and there will also be flexible hours other than early morning and morning shifts. The vacancies refer to that of permanent employment and a full time job.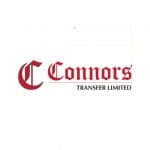 Employer Name:  CONNORS TRANSFER LIMITED
Position: Truck driver, Truck-trailer
No. of vacancies: 5
Salary: $.44 commission per mile; Minimum wage is guaranteed
Employment type: Full Time
Location: Connors Lane, Thorburn, NS
Job description
Is needed to perform brake adjustments.
Should receive and relay information to Central dispatch.
Is needed to oversee the condition of vehicle and inspect the brakes lights tyres cold storage and other equipment.
Is needed to perform free trip on jute and post rip inspection and oversee all the various aspects of the vehicle.
Documentation of incident or accident reports trip reports, repair and maintenance reports Inspection Report for free trip enroute and sports trip, also dangerous goods occurrence reports, bill of lading and driver log book maintenance is needed.
Communication systems experience is needed to be able to operate GPS and other navigation equipment like citizens band radio.
The type of trucking and equipment is usually Tractor-trailer or Refrigeration vehicles.
Should show professionalism in customer service.
Should be able to handle weight up to 23 kg
Requirements
No degree, certificate or diploma is required.
Should have Driver's License (Class 1 or A); Commercial Vehicle Operator's Registration (CVOR) Certificate; Class 1/1F/A License (semi trailer trucks); Air Brakes Endorsement.
 An experience of 2 years to less than 3 years will be given importance.
Should know English.
Should have own tools like Steel toe safety boots and hard hat .
Travel experience in Regional, Local, International, Provincial/territorial, Long-haul will be appreciated.
Should have drivers validity license check, driving record check, medical exam check, drug test check, criminal record check and a valid passport.
Should be willing to travel across border and willing to travel for extended periods including overnight provided the travel expert princes will be paid by employer and should be comfortable with repetitive tasks and handling of heavy loads which is physically demanding and may require paying attention to detail and sitting for long hours and driving manual transmission vehicle.
Should have effective interpersonal skills and should be flexible and should be excellent in oral communication and written communication, in reliability organization and judgement.
How to Apply
If you're interested in applying, apply through the given options
By email